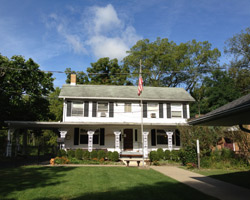 The school's safe and secure park-like setting is nestled in the quiet residential area of Brownlee Woods, centrally located with access to I-680. The campus consists of two buildings surrounded by natural grassy play yards and beautiful woods. The students use the outdoors for play and learning—gardening, field study of animals, plants, insects, birds—as well as developing an understanding of the earth and the need to protect its resources through environmental awareness.


Our History
The Montessori School of the Mahoning Valley was founded in 1976 by Suzanne Stettler. The school began as Liberty Montessori in the educational wing of the First Unitarian Church in the Wick Park neighborhood of Youngstown, where 2 Primary (preschool) classes and 1 All Day Primary (kindergarten) class were offered. In 1983, the Elementary program was added under the direction of Steve Gyomber.
By the mid-1980s, the school had outgrown the facilities in the educational wing. In 1985, the school was relocated to 2008 Lynn Avenue in Youngstown, where it remains today.
Due to the explosive growth of the school, a new building was constructed in 1997 to house the Elementary program. The building was named Stettler House in memory of the school's founder. The Adolescent program began under the direction of Darlene Wolf, serving students in 7th and 8th grade. Originally located in Stettler House, the Adolescent program was moved to the Lower Level of Children's House due to its dramatic increase in enrollment in the early years of the program.
Expansion
In the fall of 2015, an alumna family—Mark DeBruin, Sarah Jordan, and their daughter, former student Kali Jordan-DeBruin—gifted to the school an approximately 3 acre piece of property adjacent to the school's property. This generous gift parcel of domesticated meadow and natural wooded property makes possible plans to expand our campus to include a future Adolescent building, which are now underway.