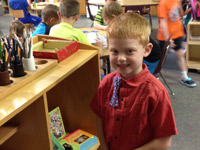 Our after school enrichment programs are provided for families who enjoy the convenience of readily available enrichment in a familiar and trusted setting.
After school enrichment are subject to change due to changing student community interests and the availability of local experts, staff members, and/or trained parent volunteers.
Recent after school enrichments have included:
MathCounts - (ages 10-14) Have fun with your friends doing math! Students try different methods of solving a variety of math problems. A team of 4 students is selected midwinter to participate in the MathCounts event at Youngstown State University with other local school teams.
Suzuki Violin - (ages 5 and up) Master Suzuki violin teacher Gina Bagnoli provides group or individual violin instruction in the Suzuki Method. Students provide their own instruments. $
NaNoWriMo pronounced NA-noh-RYE-moh - (ages 9-14) During National Novel Writing Month (NaNoWriMo) students complete their own work of fiction of a word count determined by the child. The goal is to write every day for the month of November and complete the word count while telling a story—beginning, middle, and end. The weekly sessions at school are a time for collaboration and support reaching this personally determined goal . . . and it's a lot of fun!
Lego Club - (ages 9-14) Everybody likes to build, and our Lego Club is a chance for the older kids to get together and create some interesting and complex constructions—or just have fun playing with Legos! $
Band - (ages 9-14) Collaboration with musical instruments. Students learn more about their musical instruments of choice, reading music, and playing together to bring music compositions to life. Students provide their own instruments. $
Choir - (ages 9-14) Students practice blending their voices in song. The goal is to learn to sing compositions in parts.
American Sign Language - (ages 6 and up) An introduction to ASL for students fascinated by this visual and movement oriented language. A trained expert demonstrates and provides materials to assist with practice of this second language. $
Note: $ denotes an additional fee required.